Physical Therapist Assistant
Physical therapy is a challenging, exciting and rewarding field. In settings from hospitals and nursing homes to outpatient orthopedic clinics and specialty clinics, physical therapist assistants earn a respectable salary and help others in need of healing. USA Today recently called physical therapy one of the fastest-growing job prospects.

The Clarkson College Associate of Science in Physical Therapist Assistant (PTA) degree will offer you a well-structured, accredited academic and clinical curriculum. Our students consistently receive a 95 percent pass rate on the National Physical Therapy Examination for PTAs in our traditional option and 100 percent pass rate in our transfer option, and our graduates report earning starting salaries of up to $49,000 a year. While our PTA program is the largest in the state, we maintain a 12-1 student to faculty ratio in lab experiences to ensure you receive a highly individualized education.
As a Clarkson College PTA student, you will develop skills to treat patients in all areas, including musculoskeletal, neuromuscular, cardiovascular/pulmonary and integumentary care, pediatrics and geriatrics. You will participate in hands-on clinical experiences that allow you to work directly with professionals and patients in need of rehabilitation. With more than 180 clinical sites across 25 states, you have the opportunity to select the type of setting and in which state(s) you'd like to complete your PTA training and degree requirements. Specialty areas include pediatrics, prosthetics, neuro-rehabilitation and women's health, among others.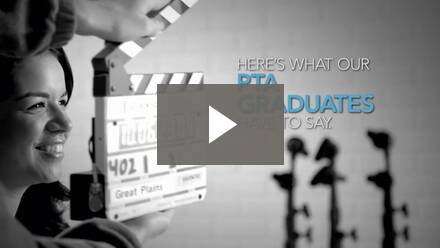 Admission Criteria
PTA Program Application Packet and Forms

PTA Program Mission & Philosophy
The Physical Therapist Assistant (PTA) program at Clarkson College utilizes high quality, well-integrated, contemporary curricula to prepare students to deliver professional, ethical, competent and compassionate health care.

Physical Therapy (PT) is a healing profession. It focuses on the restoration of musculoskeletal and neuromuscular function, the promotion of physical wellness and a commitment to service to others. PTAs are individuals who play an integral role as part of the patient care team by assisting the physical therapist in patient care. Involvement with patient care in PT requires an educated individual who possesses a basic insight into human nature, and who places a strong moral value on human life. PTAs are influential professionals who advance the field of PT as clinic administrators, faculty members, clinical instructors and clinicians—and by participating in professional organizations at the state and national levels. They are educationally and technically trained health care professionals concerned with improving the well-being of all humankind and empowered to make a positive difference.

Accreditation
Associate of Science in Physical Therapist Assistant
Accreditation from the Commission on Accreditation in Physical Therapy Education (CAPTE)
1111 North Fairfax Street Alexandria, VA 22314 PH 703.706.3245 accreditation@apta.org
Review the Program Outcomes Report