Radiologic Technology
A career as a radiologic technologist (RT) starts at Clarkson College, where students discover the art of providing diagnostic services to patients using high-tech imaging equipment. Upon completion of the program, RTs have opportunities for employment at hospitals, imaging facilities, urgent care clinics, private physician offices and many other health care facilities, in addition to other industries and civil service settings.

Upon successful completion of the program, you will be able to sit for the national certification examination in radiography administered by the American Registry of Radiologic Technologists (ARRT). After successful completion of this examination, the individual will be a certified radiologic technologist, R.T.(R). Some states may also require licensure to practice.

Those students wishing to work toward their baccalaureate degree can choose to enter the Bachelor of Science in Medical Imaging (MI) program. With this dual degree option, students have the opportunity to work toward their Associate's and Bachelor's degree simultaneously. Those students who start the RT program with an Associate's degree can earn both an RT and an MI degree in two years.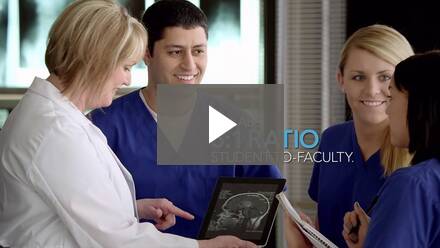 Academic Catalog
Course Descriptions
Curriculum Plan

RT Program Mission
The Radiologic Technology (RT) program at Clarkson College is designed to provide a high-quality, diverse educational experience rich in both professional and general coursework. Students of the program will be prepared to enter the RT profession and to demonstrate good ethical judgment and compassion in the delivery of patient care. The RT students are expected to adhere to all professional and ethical standards set forth by the American Society of Radiologic Technologists (ASRT).
Review the Program Effectiveness Report
Program Goals & Student Learning Outcomes
Graduates will have entry level radiography skills.
Students will utilize ALARA techniques.
Students will select proper technical factors.
Students will provide appropriate patient care.

Graduates will communicate effectively.
Students will use effective oral communication skills.
Students will use effective written communication skills.

Graduates will use critical thinking skills.
Students will evaluate image quality.
Students will use problem solving skills to customize exams to fit the needs of the patient.

Graduates will evaluate the importance of professional growth and development.
Students will demonstrate professional behavior.
Students will participate in continued education.