The Clarkson College Residence Hall gives you the ability to live with friends and classmates while enjoying your own secure, private bedroom and ample personal space.
Housing Floor Plan Layout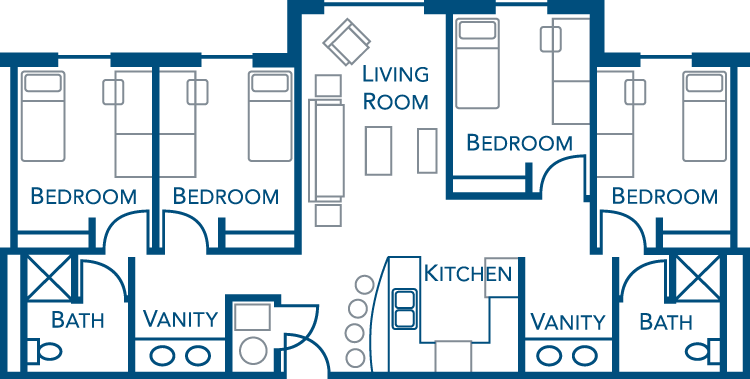 The apartment dimensions are as followed:
Living Room: 11ft. x 16ft 6 inches
Kitchen: 12ft. x 9 ft.
Bedroom: 9ft. 10 inches x 12 ft.
Bathrooms: 14ft. x 8ft 4 inches
Window Dimensions:
Single: 40" x 60"
Double: 80" x 60"
The Living Room will have a full size couch, chair, end table, coffee table and entertainment table.
The Kitchen will have a full range stove, microwave, full size refrigerator, disposal, dishwasher, and four bar stools for the countertop table.
The Bedroom will have a regular size twin bed (not an extra long bed), a computer desk, a computer chair, and two sets of stackable drawers (four drawers total).
The Bathroom will have a double vanity and a separate room with the commode and shower. It's highly advised that residents do not bring additional furniture (ex. futons, chairs, etc.).
All the furniture that is present in the apartment on move-in day cannot be taken out of the apartment for any reason. You are encouraged to bring your own computer, TV, stereo, toiletries, towels, linens, shower curtain, cleaning supplies, dishes, etc.
The Residence Life Staff is excited to welcome you to your new home. If you have any questions regarding your placement, apartment, or move-in day procedures please let me know. I can be reached at 402.552.2557, or by email at housing@clarksoncollege.edu.
To set up your own personal tour of the Residence Hall, call 402.552.2557 or e-mail housing@clarksoncollege.edu.
For additional apartment views, take a look at our photo tour or Facebook page.