The 3D Printing and Training Center at Clarkson College uses cutting edge technology to provide 3D print visualization tailored to your needs.  We offer several 3D print medium types. We currently have three printers available, all with different capabilities.
3D Print Inquiry Form
PowerShare PACS Portal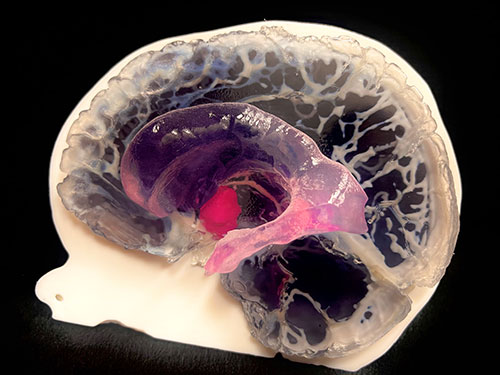 ---
Stratasys J850 Digital Anatomy Polyjet Printer
The Stratasys J850 Digital Anatomy 3D printer has a build area of 490 x 390 x 200 mm (19.3 x 15.35 x 7.8 in). With a resolution of 14 microns and the blood vessel application can create fine vascular structures with inner diameters and wall thicknesses as small as 1.0 mm.
Digital Anatomy Material
GelMatrix® — Unique GelMatrix material and GelSupport™ depositing patterns allow you to print small, complex vascular structures and easily removeinternal support material.
TissueMatrix® — Sophisticated material configurations allow for models that feel and behave like native organ tissue when force is applied.
BoneMatrix® — Complex material depositing patterns mimic porous bone structures, fibrotic tissues and ligaments.
---
FormLab 3 SLA Printer
The Form 3 offers Low Force Stereolithography and a resolution of 25 microns. Build volume of 14.5x14.5x18.5 cm ( 5.7x5.7x7.3 in).
Flexible 80A— Flexible 80A Resin is the most stiff soft-touch material in our library of Flexible and Elastic Resins, with an 80A Shore durometer to simulate the flexibility of rubber or TPU.
Elastic 50A—Our softest Engineering Resin, this 50A Shore durometer material is suitable for prototyping parts normally produced with silicone. Choose Elastic 50A Resin for parts that will bend, stretch, compress, and hold up to repeated cycles without tearing
White Resin— Materials for High-Resolution Rapid Prototyping High Resolution. For demanding applications, our carefully-engineered resins capture the finest features in your model. Strength and Precision. Our resins create accurate and robust parts, ideal for rapid prototyping and product development. Surface Finish. Perfectly smooth right out of the printer, parts printed on the Form 2 printer have the polish and finish of a final product.
---
Ultimaker 5s
Ultimaker filaments are formulated to ensure the highest print quality and cover a wide range of applications.
PLA Color— Ultimaker PLA (polylactic acid) filament provides a no-hassle 3D printing experience thanks to its reliability and good surface quality. Our PLA is made from organic and renewable sources. It's safe, easy to print with and it serves a wide range of applications for both novice and advanced users
PLA Breakaway— Ultimaker Breakaway is a support material for multi-extrusion 3D printing. Breakaway support is quick to remove and does not need further post-processing for a quality finish on your 3D print. Designed for a hassle-free 3D printing experience, Breakaway provides good adhesion to ABS, Nylon, PLA, Tough PLA, CPE, or CPE+