Office 365 provides a cloud-based identity and access management (IAM) solution that offers simple single sign-on (SSO), making it easier for Clarkson College to secure and manage access to web applications. Office 365 lets you sign in once and get access to all of your cloud applications without having to sign into them separately.
---
Where do I start?
Click HERE in Google Chrome and enter your email address and password.  
(Or clarksoncollege.edu  -> Current Students -> Office 365)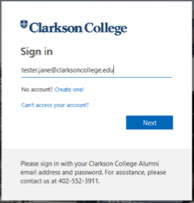 ---
Where do I find my apps, such as Canvas?
Click the waffle menu in the upper left-hand corner of Office 365 to open the App Launcher. From there, click "All apps" to see the apps that have been assigned to you (such as Canvas). For more information, see Meet the Office 365 App Launcher.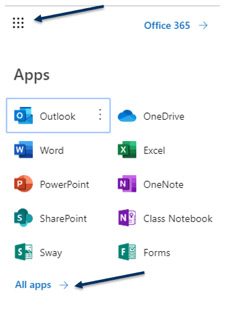 Click any app to launch it and you will be automatically signed in.
---
Can I pin apps to my menu?
Yes.  After clicking on "All apps" you can scroll down or search to find the apps you are looking for.  There will be a menu button next to each app that will allow you to "Pin to launcher"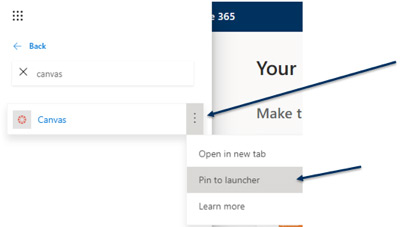 ---
What username do I use for Office 365?
Your username is your Clarkson College email address.
---
How do I set my security information?
When you sign in to Office 365 the first time, you will be prompted to enter your security information: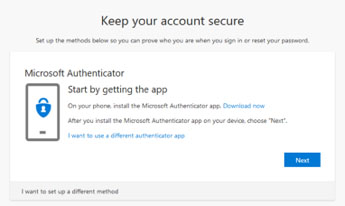 You can change your security info any time from the Security Info app in Office 365.
---
I forgot my password: what do I do?
Click "Forgot my password" on the Office 365 Sign in page and follow the prompts. You will be asked to verify your identity using the security information you previously entered. Once completed, you'll be able to reset your password.
---
I am unable to reset my password. What do I do?
Contact the Clarkson College IT Help Desk at 402.552.3911.
---
How do I change my password?
Log into Office 365, go the upper right-hand corner and select My Account.
On the My account page, choose the option to reset your password.
---
I reset my Office 365 password, and now I can't access email from my smartphone.
You will need to open up the Microsoft Outlook app on your phone and enter your new password.
---
What happens if I try to log into an app directly from my browser?
It is most convenient to start your day in the Office 365 portal and open your apps from there, but you can also open an app directly from your browser. If you haven't logged into Office 365 on another tab--or your Office 365 session has timed out--the browser will redirect you to the Office 365 sign in page when you access an app directly. Just enter your Clarkson College credentials to open your app.
---
I have another Office 365 account and it conflicts with my Clarkson College account. What should I do?
We recommend you use a separate browser for each Office 365 account. For example, try using Chrome for you Clarkson College account and Firefox for your personal account.