Step 1: Check that you've received your Clarkson College email address and password. Your email address should look similar to one of the examples below.
Lastname.Firstname@clarksoncollege.edu
Lastname.Firstname2@clarksoncollege.edu
Your email address will be used to sign in to Clarkson College apps that use single sign-on (SSO).
Legacy systems (i.e. SelfService, NetPartner) will use a separate username and password.
---
Step 2: Open your web browser.
If you already use Office 365 for another personal, school, or work account, you may experience issues accessing these accounts in the same web browser.
Use a separate web browser (Edge, Firefox, Chrome) for each account to keep things working correctly!  Google Chrome is the recommended browser for Clarkson College.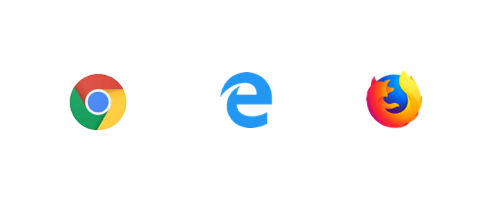 ---
Step 3: Sign in to Office 365.
Enter your email address and password from Step 1: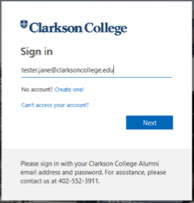 After signing in, you will be prompted to set up your password reset method.  This is a one-time setup, but can be updated at any time via the Security Info app.  Click Next .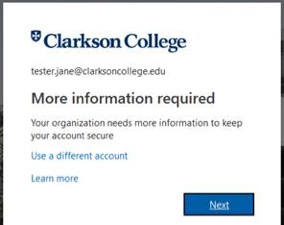 After clicking Next, you can choose from three options to reset your password in the future:

The Microsoft Authenticator App

Install an app on your phone that will provide a push notification or code.

Phone

Receive either a text message or phone call with a code.

Email

A code will be sent to a personal email account.
Choose " I want to set up a different method" to pick the password reset method of your choice.  Phone is typically the easiest method to set up.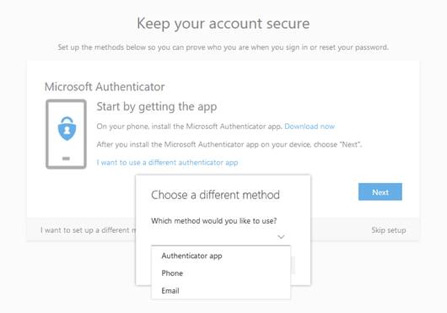 After completing the setup, you'll see the Office 365 Home Page.
---
Step 4: Change your password.
In the upper right-hand corner of Office 365, select My Account -> Security & Privacy -> Password to change your password.

---
Step 5: Set up email on your mobile device (optional).
If you'd like to set up your email on your smartphone or tablet, download the free Microsoft Outlook app. 

Other mobile email programs (i.e. Apple Mail) will not work with your Clarkson College email.  If your mobile email app doesn't look like the icon above, you'll need to download the app from the App Store or Google Play. 
To configure the app, select Add Account and choose Work or School account if prompted for a type. 
Enter your Clarkson College email address and password to finish setup.
NOTE:  It is important to disable the "Focused Inbox" to make sure all message display in your inbox correctly.  You can find this option in the Settings menu of the app.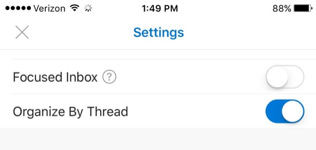 ---
Step 6: Find and "Pin" your apps to the menu (optional). 
To locate your apps in Office 365, click the App Launcher in the upper left-hand corner and then choose " All apps" from the menu.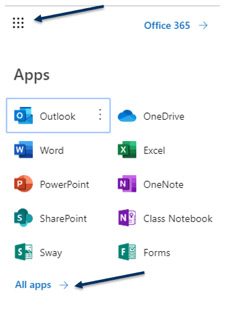 From here, you can scroll down or search to find the apps you are looking for.  Be sure to " Pin" your apps (like Canvas) so that they show up in the short menu!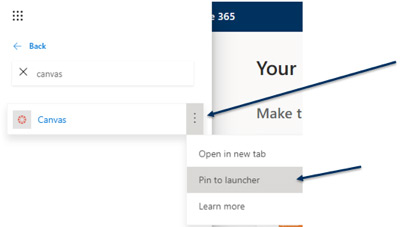 ---
Step 7: Update your Security Info
Remember that password reset method you set up when you signed in to Office 365 for the first time?  This information is used to help you reset your password if you forget it in the future.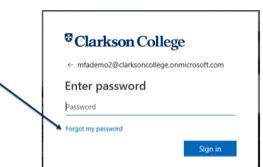 We recommend that you set at least two methods to help you reset your password in the future.  You can add or change your methods at any time by using the " Security Info" app from the menu.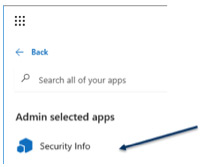 On the Security info page, click " Add Method" to set up a personal email, phone (for text or call), or the Microsoft Authenticator app.  Be sure to update your methods before you get a new phone or personal email address!